What is a chatbot, anyway? Simply explained, a chatbot is an intelligent software that allows users to talk to each other in a natural way, like with a person.
Wondering if and how you can generate leads with chatbots? Lead generation is about turning prospects into potential buyers. By getting the visitor:s to provide you with their personal information, such as an email address or phone number for further interaction.
Chatbots are second to none when it comes to user:inside interaction. Bots help companies provide around-the-clock support, quick answers – and then customer service involvement for more complex questions. They have literally revolutionized the way companies interact with their customers. In fact, 55% of companies using chatbots generate high-quality leads.
Sounds interesting?
Read on, Sophie Hundertmark explains on 3 use cases how you can use chatbots for lead generation in your business – or talk directly to Sophie's chatbot.
Chatbot instead of popup
My first example is a very simple one: Chatbots can also be used quite simply instead of a pop-up. This type of bots is not intelligent, but they still generate good and especially qualified leads if the concept is right.
Here is a personal example:

I had developed a new template for designing the chatbot personality and writing chat dialogs. Now the question arose, how I can make my visitors aware of the new template as quickly as possible. Sending a newsletter again? Too intrusive. A LinkedIn post? Certainly does no harm, but also does not reach everyone. It is much more important to me that I can quickly reach the visitors who already come to the website.

The solution – a simple chatbot that greets visitors to my blog, draws their attention directly to my new template and motivates them to download it if possible. Once the download is made, I have the lead in my CRM.
If the user doesn't want to download, the bot should point the visitor to my other chatbot resources like podcast, blog or events in the second step. Setting triggers determines when the bot appears, for example I only have the bot start when the visitor:in has already been on the landing page for 10 seconds.
Using the chatbot instead of a pop-up, I generated at least one new lead every day – and this one is already qualified. I can assume that the users who come to my website, chat with the chatbot and then download a template are really interested in a chatbot.
Generate leads with chatbot – 24×7 appointment setting
Chatbots for booking appointments are quite common for companies in the service and IT industry, as requests for showings or software demos are part of their daily business. You don't have to worry about the cost of hiring additional staff to handle such requests.
Invest in a chatbot and offer your customers a fast service around the clock and without queues.
Customers can easily book slots for an appointment on your website with the help of a chatbot, and the notification goes to the responsible team and the customers themselves.

Here is an example chat for an appointment:
Chatbot: "Good afternoon, I'm Christian, how can I help you today?"

Customer: "I would like to make an appointment for a software demo".

Chatbot: "Please select one of the available dates from the calendar and I will book it for you."
This interaction is short and simple, can take place at any time of day. The dialog-oriented mode of operation also helps users who are not so familiar with the Internet to reach their goal quickly.

But chatbots can do even more:
a customer:in is not sure if the software agrees for their requirements. The chatbot can query its the requirements, match them and offer the appropriate quote.

The chatbot can schedule follow-up appointments based on the customer's booking history, send reminders of upcoming appointments, and even manage payments.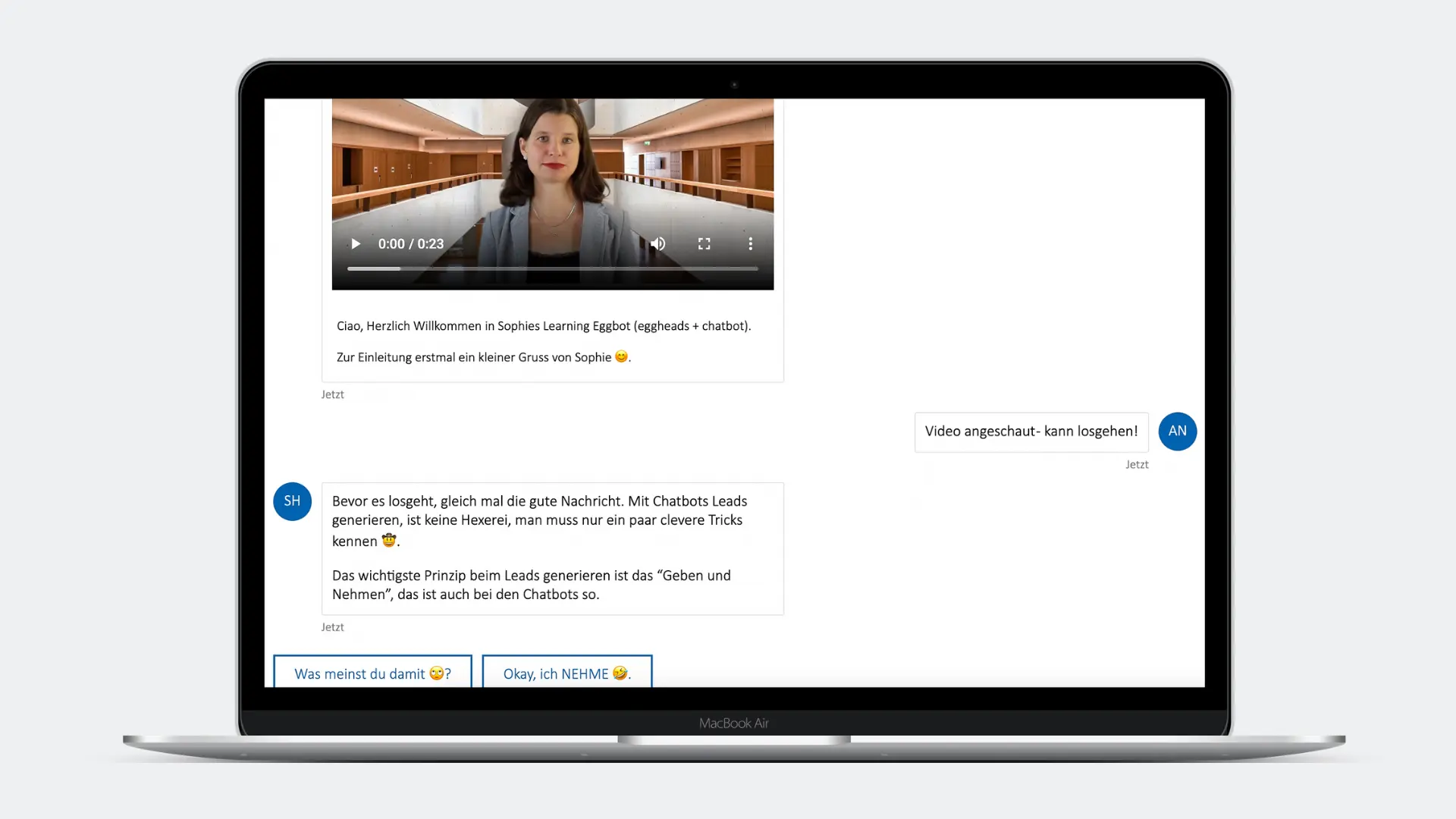 Generate leads via the website with chatbots
Your store sells more complex products or products that require explanation? Whether insurance, cell phone contracts, rental cars or cosmetics – an intelligent chatbot can advise your customers, compare products and suggest the most suitable option. The chatbot learns with every conversation, it can directly consider recurring follow-up questions and specifically address these aspects in advance.

To filter out the best offer from the often confusing options, the chatbot asks about important aspects during the conversation, such as the minimum data volume required per month. By asking intelligent questions, the chatbot can take each prospective customer:in by the hand, and provide individual advice according to the framework conditions that are important for this person. And around the clock, whether it is a holiday or weekend.
The aim is to give the customer:inside a quick and easy sense of achievement and, moreover, to give him/her the feeling of having found the ideal product through individual advice. An intelligent chatbot can thus relieve customer service of many standard consultations and inquiries. If a problem is too complex, the chatbot simply calls in human customer service and they have much more time to focus on the difficult consultations.
Conclusion – How can I now use a chatbot in my company?
Integrations with marketing automation software like Aivie help you personalize your chatbot, store the data centrally, or access centrally stored data as well.
The chatbot then has information about visitor behavior or previous purchases at its disposal, for example, and can personalize the conversation accordingly. The chatbot can then push the collected data to the CRM or mail system via Aivie. By asking intelligent questions, the new lead is already flagged in your system. Thus, the segmentation is then also automatic and faster.

Want a first impression of a chatbot?
Generate leads with chatbots.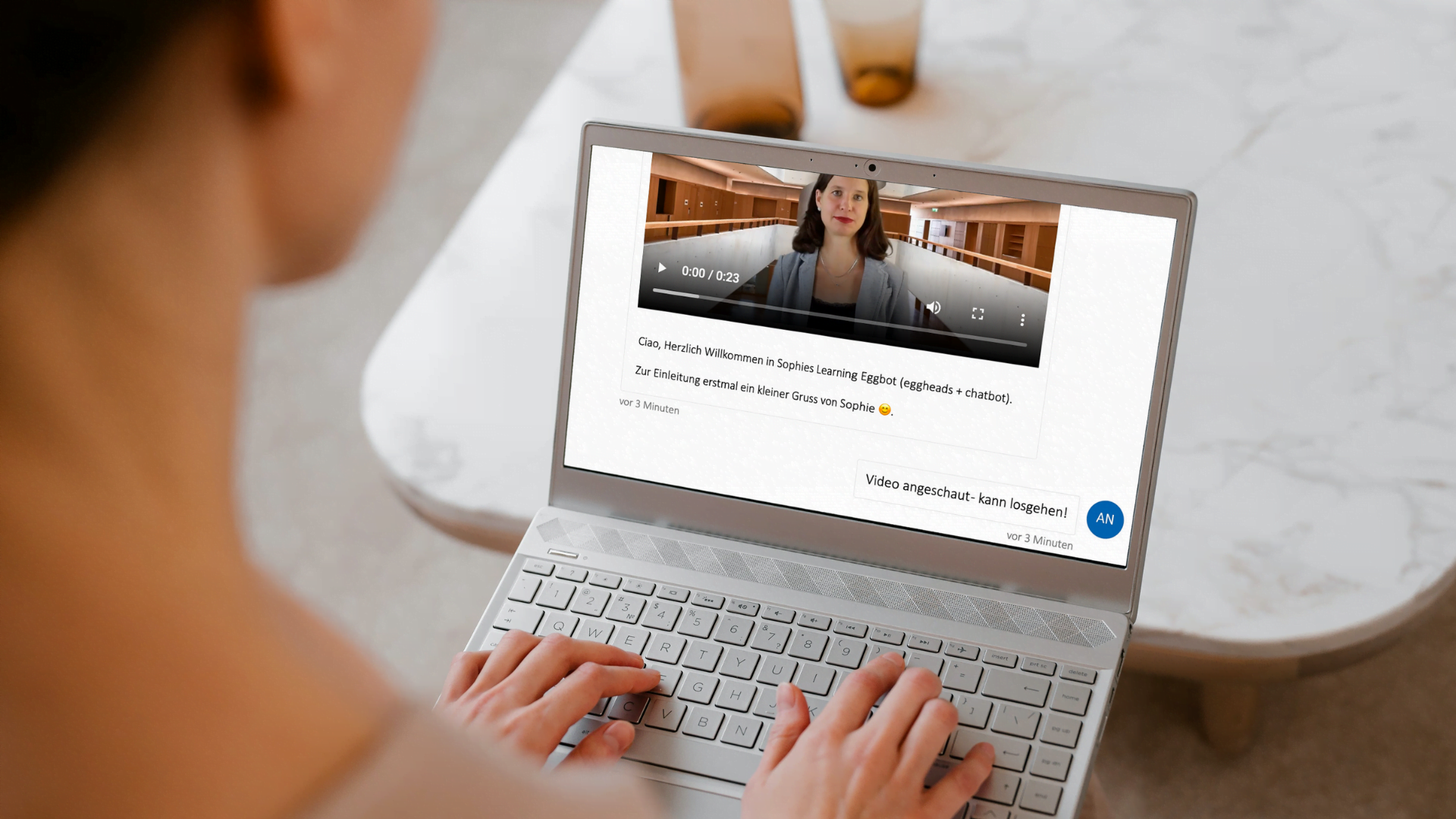 Easily integrate with marketing automation.
Contact us, Adrian will be happy to help you with planning and connecting your chatbot to your marketing automation tool.